Stop sound if you wish.



---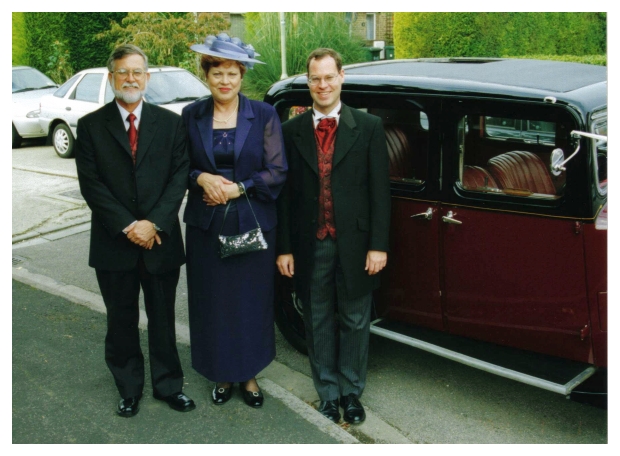 The family at Mark's wedding, Oxford, UK 2003

Ancient History:
My wife Dianne and I are still hapily married after more than 30 years. We are both retired teachers and have recently moved to a small house in Woodcroft, a southern suburb of Adelaide, capital city of South Australia. We have a son, Mark, who was born in Jamestown in February 1971.

Dianne coached a school netball team while at Jamestown, and the girls in the team often used to make a fuss of young Mark during breaks on a Saturday during the match. It may be of some interest to them to find out what happened to that little baby later . . .

Dianne's high school teaching career included postings in the country - at Victor Harbor, where we met, and to Jamestown as Senior Mistress in Mathematics and Geography. She rejoined the teaching service after a six year break, when Mark went to school, and she taught at Daws Road and Blackwood, concluding her career with a brief posting to the Language school for new arrivals, at Cowandilla.

She played competitive tennis until the age of 39, when she contracted rheumatoid arthritis. This crippling disease needs ongoing medical treatment and although she managed to teach for several years, Dianne was forced switch to part time teaching and eventually she was forced to retire in 1992.

Dianne is a member of the Embroiderers' Guild of South Australia, and has always been interested in knitting, crochet and various forms of embroidery, including Silk Ribbon embroidery, Cut Work, Cross Stitch, Ruskin Lace, Knotted Lace, Blackwork and Hardanger, to mention only a few.


---


Before my retirement at the end of January 2001, I taught Maths, Computing and Information Technology in state secondary schools. I started in the mid 1960s, and taught at country schools at Victor Harbor and Jamestown, and metropolitan schools, including Christies Beach for 18 years and Aberfoyle Park (my last posting) for 12 years.

I am interested in computers, and own an Apple iMac 700MHz PPC. I use the computer to keep in touch with Mark in England, and to maintain this web page. I also use the computer, with my scanner and laser printer, to reproduce manuals and handbooks for vintage and veteran BSA motorcycles.

I used to ride a BSA motorcycle many years ago - in the early 1970s, when I taught in Jamestown.

It was a 1951 model BSA B31 with a rigid frame, and a 350cc cast iron engine. It would go all day and was very reliable, although it had some piston slap and made a bit of noise. It never let me down while riding to school, and at the weekends while I was working in the country. It continued to be a reliable commuter bike when I moved back into the metropolitan area.

I sold it several years later, and regretted it ever since, so when I retired, I bought an old wrecked motorbike almost the same as the one I used to ride, and have been restoring it for the last couple of years. Unlike me, the old bike now looks better than it did fifty years ago.


---


Mark graduated from Adelaide University after spending five years there, and gained three degrees, Bachelor of Electronic Engineering, Bachelor of Computing Science, and Bachelor of Mathematical Physics. On the strength of his results, he won two scholarships to Oxford University (the Menzies Foundation Scholarship and the George Murray Scholarship). He gained a D. Phil (Ph D) after studying Robotics and Robotic Vision.

After working in Oxford for several years, and in Melbourne at the Howard Florey Institute, Mark moved back to England as Head of the Imaging department at FMRIB (Functional Magnetic Resonance Imaging of the Brain), which is based at the John Radcliff Hospital at Headington, Oxford.

Mark was engaged to Sarah, an English girl who was completing her D. Phil at Oxford University, and they were married in Oxford in late September 2003. The wedding and the reception went exceptionally well, and there were people from 16 different nations represented. Some digital images of the wedding and the reception can be seen at Mark's wedding page



Check out some 1970 photos from Jamestown High School


---
E-mail me if you wish
at



Created and maintained by John Jenkinson, using a Macintosh iMac G4.